Hero: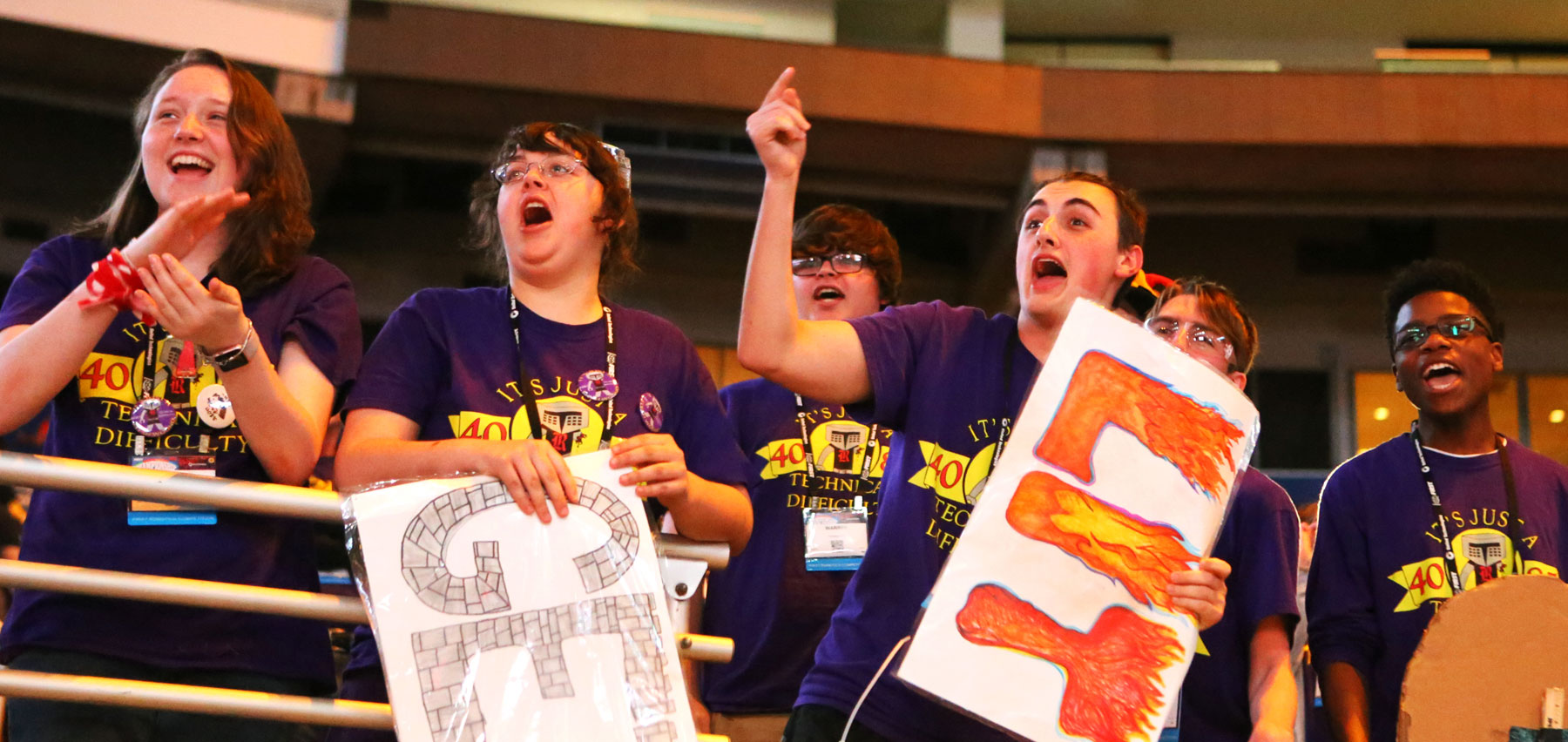 Campus Guide Houston
Overview of events happening at each venue. Upon arrival, be sure to download the FIRST Championship Event App.
READ MORE
+
George R. Brown Convention Center (GRB)
Level 1 Halls A – E (GRB L1)
FIRST® Robotics Competition (ages 14-18, grades 9-12) – High school students from 400 international teams compete on custom playing fields with robots they have designed, programmed, and built themselves. FIRST Robotics Competition fields and Pits (safety glasses provided and required) are located in the GRB. Watch teams compete in this year's robotics challenge on six playing fields.
Level 3 (GRB L3)
FIRST® Tech Challenge (ages 12-18, grades 7-12) – Middle and high school students compete on custom playing fields with robots they have designed, programmed, and built themselves. One-hundred-twenty-eight international teams will compete in Hall B Level 3. The teams' Pits will also be located in Hall B (safety glasses provided and required).
FIRST® LEGO® League (ages 9-16, grades 4-8) – Elementary and middle school students are judged on Core Values, Robot Design, and Project. Additionally, in the Robot Game, LEGO MINDSTORMS®-based robots are programmed by team members to complete "missions" on a playing field. All activities will be held in Hall A Level 3 at the GRB, where you can see 108 teams from around the world work on their robots and compete.
FIRST® LEGO® League Jr. (ages 6-10, grades K-4) – Elementary school students are challenged to explore a scientific topic, then present what they learned with a Show Me poster and a powered LEGO model. Sixty teams will present their findings at the FIRST LEGO League Jr. World Festival Expo located in Ballrooms A – C, Level 3.
Special Events – The General Assembly (GA) in the GRB will hold special events such as the FIRST LEGO League and FIRST LEGO League Jr. Awards Ceremonies and various FIRST Championship Conferences.
The Grand Ballroom will house the FIRST Innovation Faire, a hands-on, Maker Faire-inspired area featuring FIRST Sponsors, Suppliers, Scholarship Providers, and other Special Guests. All FIRST Championship attendees are encouraged to participate in the completely free FIRST Innovation Faire, where attendees can receive exciting giveaways, witness new technology demonstrations, and participate in fun, hands-on activities for all ages.
Discovery Green (DG)
Discovery Green will host the FIRST Championship Welcome Party presented by NRG and will welcome the FIRST community to Houston – on Thursday, April 20, 2017 from 6-9 p.m. There will be activities throughout the park for students of all ages to engage in – from mainstage acts, to activity booths and roving entertainment. If you are hungry, stop by any of the many food trucks that will line the streets during the party. Admission is free to all registered and badged FIRST Championship attendees. 
Minute Maid Park (MM)
Minute Maid Park is home of the Closing Celebration, held on Saturday, April 22, 2017 from 4-8 p.m. The Closing Celebration will incorporate final matches for FIRST Robotics Competition and FIRST Tech Challenge, FIRST Championship top awards, and the Finale all rolled into one event. Concessions will be open throughout the event. The Closing Celebration will be the culmination of FIRST Championship Houston and will include exciting competition, fun entertainment, top award presentations, and a few surprises along the way.
Campus Maps
Click below to view the Campus Locations map or specific venue maps. See also: Campus Guide.