Hero: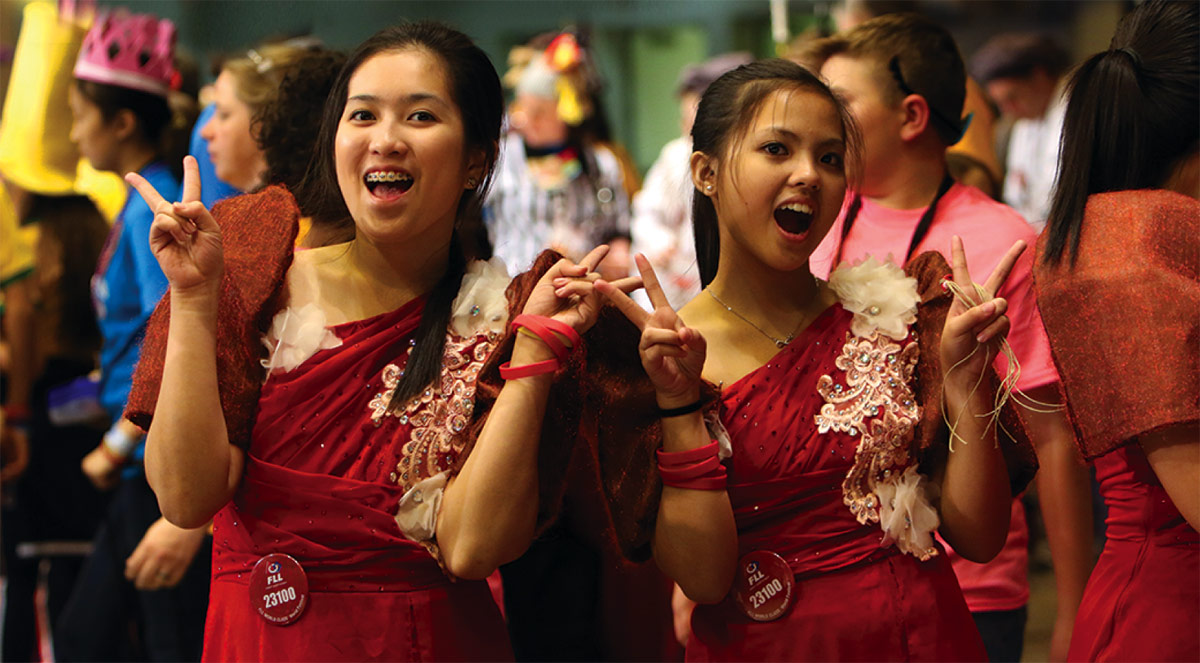 WELCOME TO FIRST ® LEGO® League
FIRST ® LEGO® League introduces younger students to real-world engineering challenges by developing their own solution to a current scientific question or problem and building autonomous LEGO®-based robots to complete tasks on a thematic playing surface. Teams, guided by their imaginations and adult Coaches, discover exciting career possibilities and, through the process, learn to make positive contributions to society.
Schedule
*click row to view details
Each season, FIRST LEGO League teams undertake a two-part Challenge based on a real-world topic. This season, teams participating in TRASH TREKSM explored the exciting world of trash via the Project and Robot Game, all while operating under the FIRST LEGO League signature set of Core Values, emphasizing teamwork and good sportsmanship.
READ MORE
+
THE PROJECT
FIRST LEGO League teams research and solve real-world problems just like scientists and engineers. This season, teams investigated the hidden (or not so hidden) world of trash! Each team was asked to:
Identify a problem with the way we make or handle trash.
Create an innovative solution that addresses their real-world "trash" problem.
Share their solution with relevant and/or meaningful audiences.
Project judging takes place at all official FIRST LEGO League tournaments. Check the event schedule to see whether there are opportunities to view team presentations. Teams may also share their solutions in the Pit area. 
THE ROBOT GAME
Teams built and programmed an autonomous robot using a LEGO® MINDSTORMS® kit to solve a set of missions on a playing field. Each mission represents a different concept in trash removal, sorting, processing, recycling, or reduction.
The ROBOT GAME missions
1: Using recycled material – Robot loads a transfer with a green bin of recyclables and teams have a chance to trade.
2: Methane – Deliver methane to the truck's engine compartment or the factory's power station.
3: Transport – Push the truck along the guide of the transport system and catch the yellow bin.
4: Sorting – Spin the wheel and the sorter separates the colored bars into green bins.
5: Careers – Bring one or both people from Base to the sorting area.
6: Scrap cars – Fold up the car and take it to the transfer.
Or, install a new windshield and engine to restore the car.
7: Cleanup – Remove the plastic bags from the sorter and the animals' environment. Move the animals to empty circles. Move the chicken to the small circle in the landfill area.
8: Composting – Activate the composter to release a puck. Bring the puck to Safety for extra points.
9: Salvage – Move the valuables to Safety.
10: Demolition – Demolish the building and bring the leftover materials to the sorter.
11: Purchasing Decision – Two toys are available. One is easier to get, but has lots of packaging. The other is harder to get but has recyclable packaging.
12: Repurposing – Put the puck from the composter into a box to make a flower pot.
Penalties 
Black bars in the wrong places will cost their team points. They will be added to the field in an unfavorable spot as a penalty.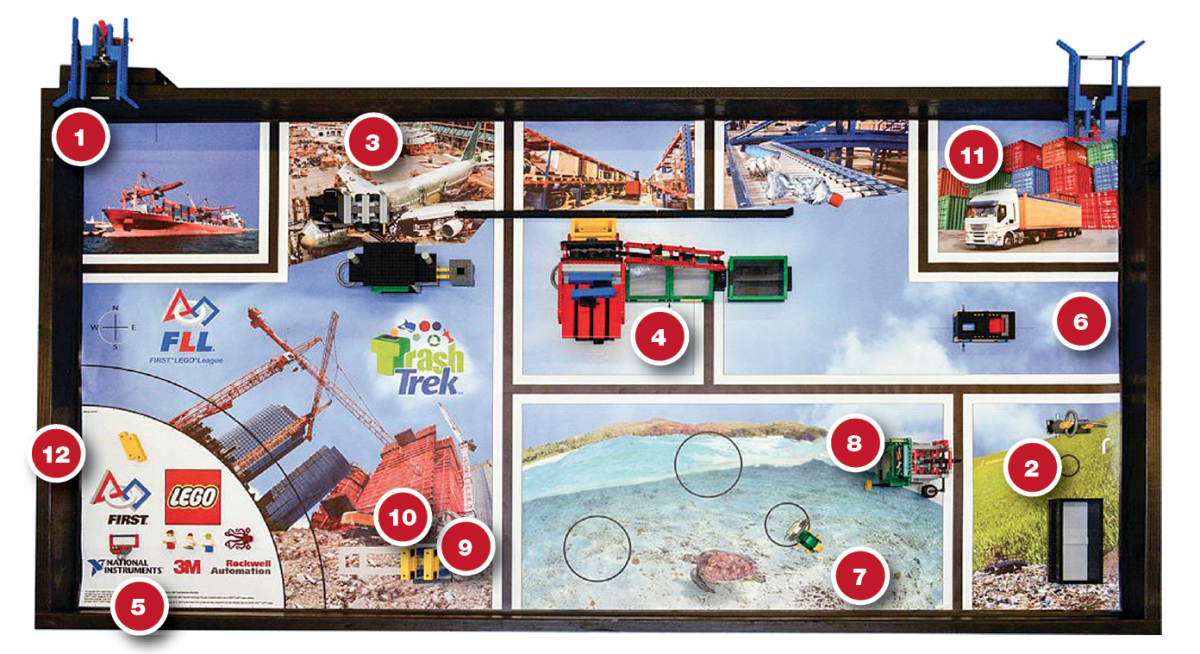 WHAT IS FIRST LEGO LEAGUE?
FIRST LEGO League is a global program created to get kids excited about science and technology. Geared toward ages 9 to 16 (ages vary by country of participation), the program utilizes theme-based Challenges to engage children in research, problem solving, and engineering. The cornerstones of the program are its Core Values, which emphasize contributions of others, friendly competition, learning, and community involvement.
READ MORE
+
Each annual Challenge has three parts: the Project; the Robot Game; and Core Values. Working in teams of up to 10 children, and guided by at least two adult Coaches, team members have about 10 weeks to:
Build an autonomous robot that will, in two minutes and 30 seconds, complete pre-designed missions.
Analyze, research, and invent a solution for a given assignment.
Create a clever presentation about their solution to perform in front of a panel of judges.
The culmination of all that hard work for many teams is the participation in an event. FIRST LEGO League events are much like sporting events! Referees monitor and score the Robot Game. Judges review team presentations, robot design, and their demonstration of Core Values. Teams earn awards and trophies.
Every year, FIRST LEGO League works with experts in the field to create a Challenge that relates to a significant real-world issue. The end result is a Challenge that requires research to complete the Project, and science and engineering to master the complex missions of the Robot Game. It's a fun and exciting way to encourage kids' minds.