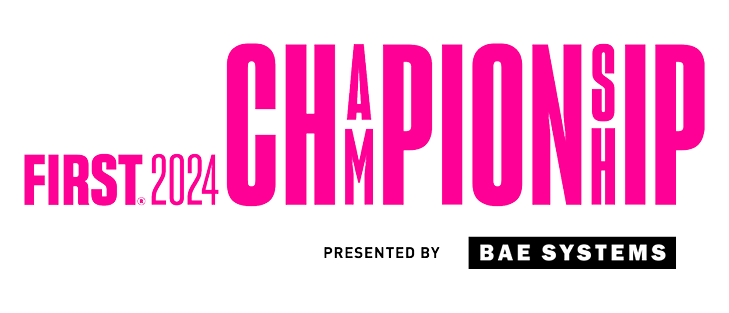 Event Guide & Schedule
The 2024 FIRST® Championship presented by BAE Systems is happening April 17-20, 2024, in Houston.
Coming soon: Downloadable event guide for attendees, overview of schedule/map, and a mobile app for full schedule and on-site information.
Event Registration & Badging
FIRST requires every FIRST Championship attendee to be registered and badged, including adult team mentors, youth team members, parents, family members, chaperones, etc. who are participating in the event. Event registration grants access to participant-only activities and increases the security of the event.
Registration for teams, spectators, and media will open in early 2024.
Hotel Accommodations
FIRST is proud to partner with housing & travel experts ConferenceDirect to bring you more than 50 FIRST-reviewed hotel locations for teams, volunteers, and all attendees to choose from during the 2024 FIRST Championship in Houston, Texas.
Team Housing for the 2024 FIRST Championship is now open!
Hotel accommodations for registered volunteers, spectators, and other attendees will open soon. To receive an email notification when housing for spectators opens, sign up here.
Sign-up to receive notification
---
Make your FIRST event experience more memorable and affordable. We've negotiated hotel discounts available exclusively for the FIRST community. Through our housing experts at ConferenceDirect, we provide you 24/7 access to full hotel descriptions, real-time availability, amenities, and other details allowing you to book quickly and confidently.
Rest easy at FIRST-reviewed hotels.
Receive guaranteed low-rates at FIRST-reviewed hotels.
Stay close to the venue and other teams.
Gain flexibility to make booking adjustments and pay later.
Get reservation protection and assistance before, during, and after your stay if any unexpected challenges occur.
Enjoy convenient FIRST-contracted amenities at most hotels including complimentary parking, Wi-Fi, and breakfast.
---
Housing: Frequently Asked Questions
Who is the Official Housing Provider for FIRST Championship?
We are proud to partner with ConferenceDirect as the only approved Official Housing Provider for the 2024
FIRST
Championship event.  
FIRST and ConferenceDirect work to ensure that we have a variety of price points, quality products, and amenities all situated in a prime location to ensure that we meet the needs and desires of 2024 FIRST Championship attendees and exhibitors. Only ConferenceDirect, the Event's contracted Official Housing Company is authorized to use any likeness of the Event, claim partnership with and allowed to book within the Event Official Hotel Block. Reservations made through any company other than ConferenceDirect, are at your own risk. If you are contacted by anyone other than ConferenceDirect, please notify the hotels@firstinspires.org immediately. Do not provide any personal or financial information to another housing vendor claiming to have rooms for the Event. Only FIRST and ConferenceDirect will contact your team regarding housing for the 2024 FIRST Championship.
When does FIRST Championship housing open?
Housing booking for participating teams is now open. Housing for all other registered attendees of the 2024 FIRST Championship will open soon and be available until April 10.
I am a volunteer. Where do I book my housing for FIRST Championship?
Starting in January, all FIRST Championship volunteers will receive an individualized and unique link to attend the event and to book housing. The registration email will arrive a few days after they have been assigned.and notified of their Championship Volunteer role.
How do I modify or cancel my FIRST Championship housing?
Can I still earn hotel loyalty rewards points if I book with FIRST?
Yes! You can usually accrue points for your stay if you belong to your hotel's frequent guest program. Include your membership number in the "Frequent Travel Number" field when submitting your online hotel request, contact the hotel directly to add your program number or ask the front desk to add your number upon check-in.
How do I get from the hotel to the event venue?
Please contact the hotel directly for shuttle options or recommended local ground transportation for your event.
For additional questions, please contact us at hotels@firstinspires.org.
---
Houston Welcomes All
Houston, our gracious host city, is excited to welcome 50,000 people from around the world who will join us for the ultimate celebration of STEM and innovation. In 2023, the City of Houston hosted the largest FIRST Championship event to date, with approximately 50,000 attendees from more than 50 countries. The 2024 FIRST Championship will continue our focus on providing a welcoming and fun space for the FIRST community to gather and celebrate our season.
Did you know?
Learn more about Houston including travel guides, food, and special discounts:
Watch Houston Mayor Sylvester Turner welcome the FIRST community back to the city for last year's 2022 FIRST Championship in a video message: