Hero: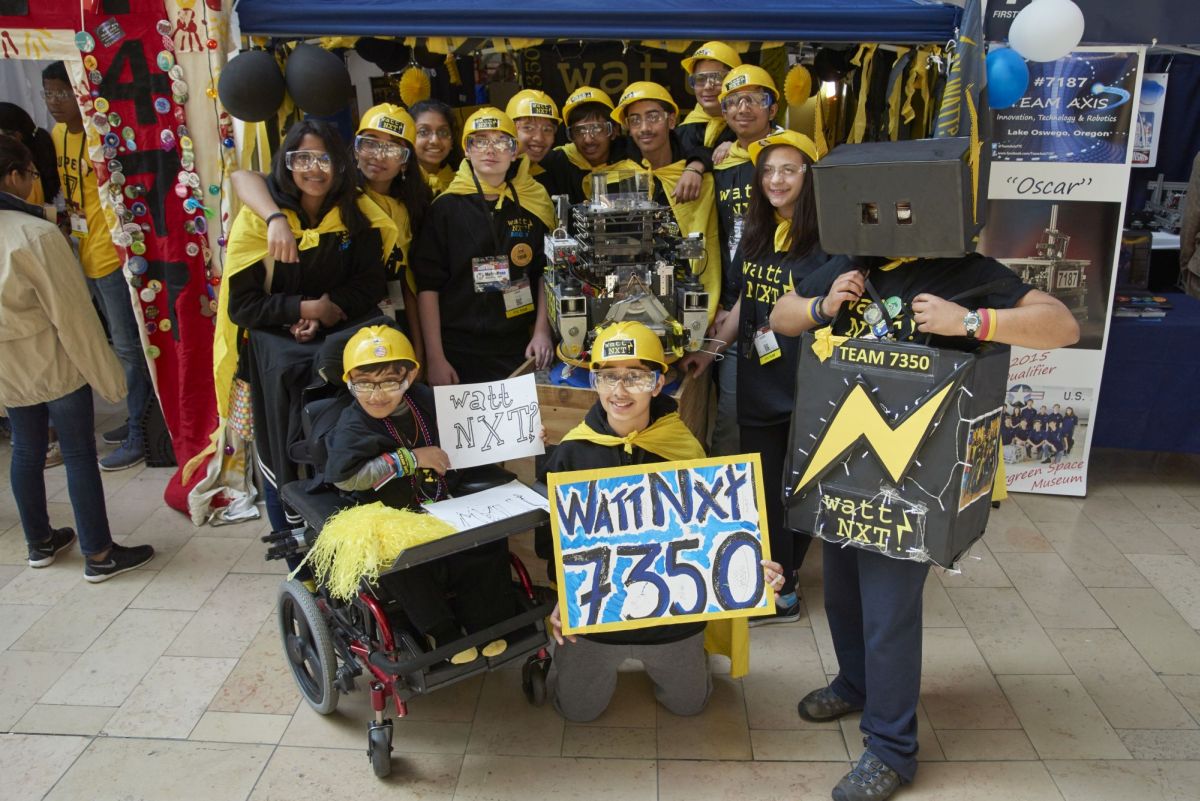 Founder's and President's Welcome
Welcome to the 2017 FIRST Championship!
 
Congratulations, FIRST ® teams! With the help of your Mentors, Coaches, Sponsors, Volunteers, and community of supporters, you've made it to the FIRST Championship presented by Qualcomm® Incorporated. To get here, you've worked hard and with determination. You've experienced failure and success. You've pushed yourselves beyond the limits of what you thought you could achieve. For that, we applaud you!
For over 25 years, FIRST teams have celebrated engineering and technology at the FIRST Championship. You are part of a truly global community – more than 50 countries are joining us at the FIRST Championship this year. As you exhibit and compete, we encourage you to make new friends and to soak in the advice, encouragement, and inspiration given by all who are here to support you. Then, look ahead. Think about how you will apply the skills you've learned in FIRST to change your life, your community, and the world for the better. Will you be the next pioneering entrepreneur, technology leader, or innovator? We can't wait to see how you have an impact on the world.
To the curious supporters and spectators who have joined us for STEM-themed excitement: Welcome! Prepare to be inspired. On the Championship fields, you'll experience the FIRST values of Gracious Professionalism® and Coopertition® alongside the amazing challenges FIRST teams have enthusiastically tackled this season. Roam the pits to find out more about the journey each team took to get here:
Elementary and middle school kids will share what they've discovered about animal habitats and their solutions for improving human-animal interactions, which they've developed through the CREATURE CRAZESM (FIRST ® LEGO® League Jr.) and ANIMAL ALLIESSM (FIRST  ® LEGO® League) Challenges.
 
Middle school and high school students will compete in Alliances with their team-designed robots on themed playing fields in VELOCITY VORTEXSM Presented by Qualcomm Incorporated (FIRST ® Tech Challenge) and FIRST STEAMWORKSSM (FIRST ® Robotics Competition).
Stop by the FIRST Innovation Faire for some all-ages fun with hands-on exhibits and technology demonstrations. Be astounded by the wide range of organizations across many industries — from small businesses and nonprofits to Fortune 500 companies—that champion FIRST. Attend a FIRST Championship Conference session and learn something new.
To our tireless Sponsors, Mentors, Coaches, and Volunteers who support FIRST wholeheartedly: Championship is your celebration, too. You made this entire season possible for all FIRST teams. We sincerely thank you.
Finally, we wish to extend a heartfelt thank you to our two great host cities, Houston and St. Louis, as well as the army of local Volunteers, businesses, and citizens supporting us.
HAVE FUN!
 
Dean Kamen, FIRST Founder
Donald E. Bossi, FIRST President
---
Local Organizing Committees - Houston & Detroit
Like the Host Committee for an Olympic Games, the FIRST Championship Local Organizing Committees are comprised of Host City leaders and luminaries who help inspire those on the front lines of businesses and civic/thought leadership in their community. Their goal is to support FIRST in the delivery of a successful global-scale, life-changing event with local flavor.
FIRST Championship Houston Welcome Committee (2017 – 2020)
Welcoming Committee Honorary Chairs
Mayor Sylvester Turner 
Jim Crane, President, The Houston Astros 
Joel Bartsch, Director, The Houston Museum of National Science  
Dean Kamen, Founder, FIRST   
Judy Ley Allen, Partner, Allen Investments  
Dr. Robert Robbins, President & CEO, Texas Medical Center
Mike Waterman, President, Greater Houston Convention and Visitors Bureau
Don Bossi, President, FIRST 
Dr. Bernard Harris, Founder, The Harris Foundation
To express interest in serving on the Committee, please contact Mr. Ron Falcone, rfalcone@firstinspires.org
FIRST Championship Detroit Host Committee (2018-2020)
Host Committee Co-Chairs
Rick Snyder, Governor, State of Michigan
Mary Barra, Chairman and Chief Executive Officer, General Motors Company
Host Committee Members
Dean Kamen, Founder, FIRST   
Don Bossi, President, FIRST 
To express interest in serving on the Committee, please contact Mr. Ron Falcone, rfalcone@firstinspires.org
Membership as of 1 February 2017
2017 and Beyond
FIRST is the oldest and largest student robotics program in the world, and the FIRST Championship is a life-changing robotics event!
More than 25 years ago, FIRST® became a game changer in the STEM world. Over the years, we've built an incredible culture with our K-12 FIRST Progression of Programs that celebrates kids' accomplishments through high-quality, inspiring, life-changing experiences, the culmination of which is our FIRST Championship. In 2017, FIRST will host two Championship events on subsequent weekends, celebrating our full Progression of Programs at each – one event in Houston at the George R. Brown Convention Center, and Minute Maid Park (home of the Houston Astros) April 19-22, 2017, followed by a second event the following weekend (April 26-29, 2017) in St. Louis.
Beginning in 2018, our dual Championship will be celebrated in Houston, as described above, April 18-21, 2018, and on the second weekend in Detroit at the Cobo Center and Ford Field (home of the Detroit Lions), April 25-28, 2018. This alignment will continue for 2019 and 2020.
Save the dates
2017: Houston, TX: April 19-22 and St. Louis, MO: April 26-29
2017: FIRST Festival of Champions Manchester, NH: July 28-29
2018: Houston, TX: April 18-21 and Detroit, MI: April 25-28
2019: Houston, TX: April 17-20 and Detroit, MI: April 24-27
2020: Houston, TX: April 15-18 and Detroit, MI: April 29-May 2