Hero: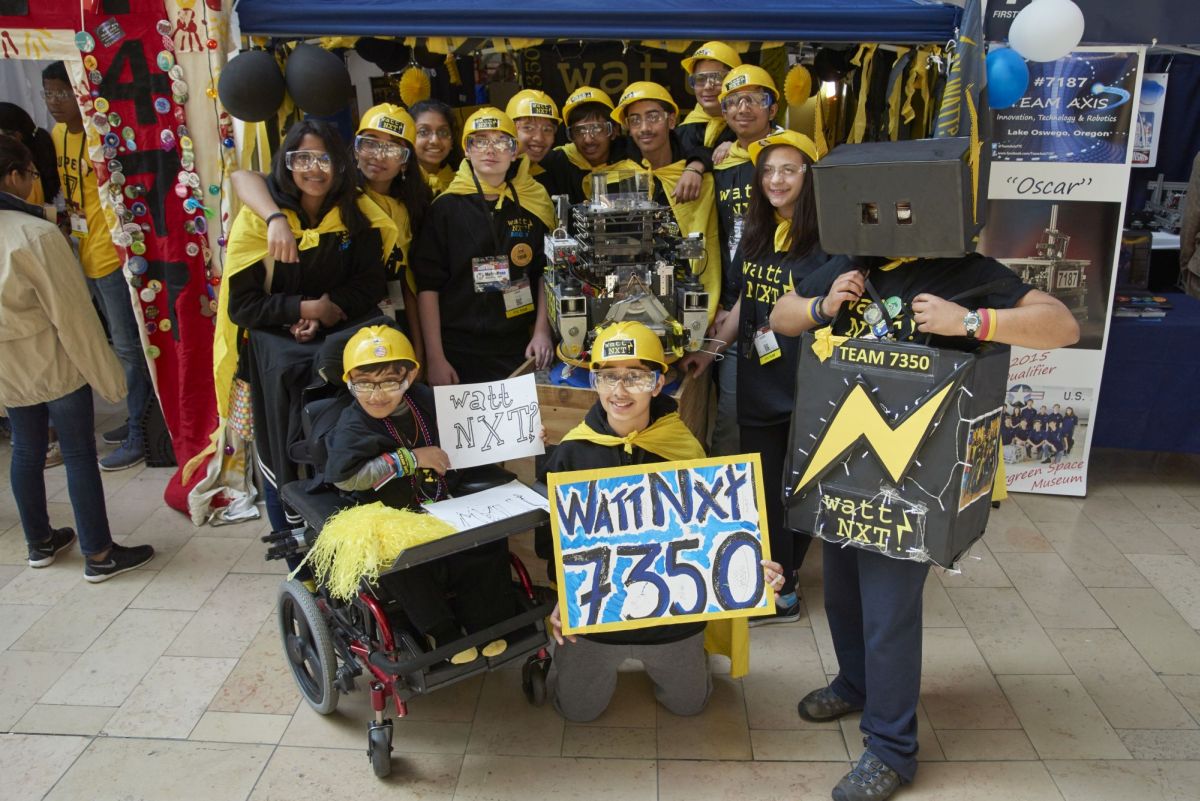 FIRST Innovation Faire
FIRST Innovation Faire & Scholarship Row
Preliminary schedule for planning your trip
| | | |
| --- | --- | --- |
| Date | Time |   |
| Wednesday, April 19 & 26, 2017 | 11:00 A.M. - 5:00 P.M. | FIRST Innovation Faire and Scholarship Row |
|   |   |   |
| Thursday, April 20 & 27, 2017 | 10:00 A.M. - 5:00 P.M. | FIRST Innovation Faire and Scholarship Row |
|   |   |   |
| Friday, April 21 & 28, 2017 | 10:00 A.M. - 4:00 P.M. | FIRST Innovation Faire |
Join us for a Maker Faire-inspired area featuring FIRST Sponsors, Alliances, Suppliers, Scholarship Providers, and other Special Guests. All FIRST Championship attendees are encouraged to participate in the FIRST Innovation Faire, where attendees can receive exciting giveaways, witness new technology demonstrations, and participate in fun, hands-on activities for all ages. For more information, please contact us at InnovationFaire@firstinspires.org
Scholarship Row
Scholarship Row is a place for Participants, Parents, and Mentors to talk with representatives from some of the colleges, universities, and organizations that make available FIRST Scholarships. This is an ideal opportunity for sophomores and juniors who are planning for college to talk first-hand to college representatives. Seniors can find out about scholarships that are still available for the coming fall, and for freshman, it's never too early to start thinking about college!
In 2016, over $25 million in college scholarships were made available to FIRST Participants from nearly 200 Scholarship Providers.
FIRST Championship Conferences
The 2017 FIRST Championship Conferences will be held on Wednesday, April 19 - Friday, April 22 in Houston, TX and on Wednesday April 26 - Friday, April 29 in St. Louis, MO. It is free of charge and open to all. Sessions and Workshops will be conducted by Sponsors, Coaches/Teams, Experts, and FIRST Staff.
The conference has been expanded to include:
Sessions and Workshops. Sessions will be the 50 minutes. Workshops will provide an opportunity to dig a little deeper into a topic and will be 110 minutes in length.
Topics have been expanded to include areas of interest for all four FIRST Programs and will include Program Updates, Technical Resources, Mentor/Coach Resources, Education, Diversity and Inclusion, Innovation, Technology Industry Topics, Innovation, and Scholarship and Alumni.
Please consider submitting a proposal to present! The Request for Proposals is open and the deadline to submit is January 30, 2017. Details on submitting proposals.
2017 and Beyond
FIRST is the oldest and largest student robotics program in the world, and the FIRST Championship is a life-changing robotics event!
More than 25 years ago, FIRST® became a game changer in the STEM world. Over the years, we've built an incredible culture with our K-12 FIRST Progression of Programs that celebrates kids' accomplishments through high-quality, inspiring, life-changing experiences, the culmination of which is our FIRST Championship. In 2017, FIRST will host two Championship events on subsequent weekends, celebrating our full Progression of Programs at each – one event in Houston at the George R. Brown Convention Center, and Minute Maid Park (home of the Houston Astros) April 19-22, 2017, followed by a second event the following weekend (April 26-29, 2017) in St. Louis.
Beginning in 2018, our dual Championship will be celebrated in Houston, as described above, April 18-21, 2018 and on the second weekend in Detroit at the Cobo Center and Ford Field (home of the Detroit Lions), April 25-28, 2018. This alignment will continue for 2019 and 2020.
Save the dates
2017: Houston, TX: April 19-22 and St. Louis, MO: April 26-29
2017: FIRST Festival of Champions Manchester, NH: July 28-29
2018: Houston, TX: April 18-21 and Detroit, MI: April 25-28
2019: Houston, TX: April 17-20 and Detroit, MI: April 24-27
2020: Houston, TX: April 15-18 and Detroit, MI: April 29- May 2