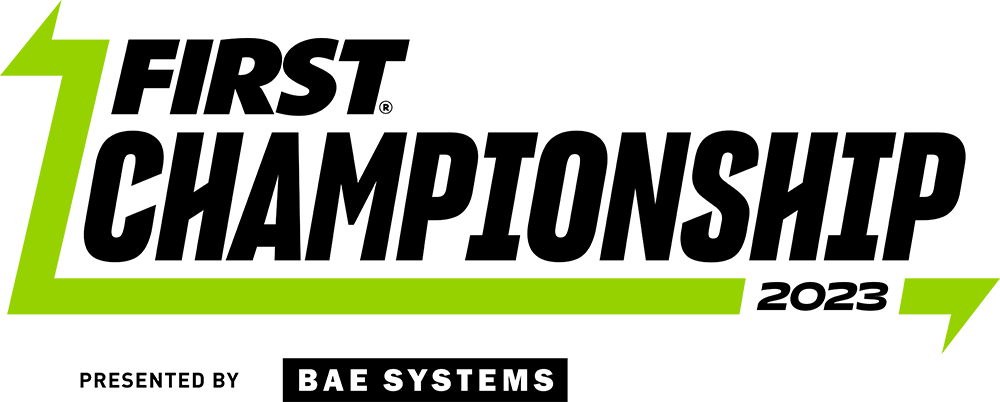 For Teams
During the FIRST® ENERGIZESM presented by Qualcomm season, tens of thousands of youth robotics teams around the world have competed and showcased their accomplishments at local FIRST events, with hundreds advancing to the 2023 FIRST Championship presented by BAE Systems. Find out what you need to know if your team is attending this year's event.
All FIRST teams attending FIRST Championship must be registered and badged. FIRST has also partnered with housing and travel experts ConferenceDirect to bring you more than 30 FIRST-reviewed hotel locations.
Pre-order lunches are available at the George R. Brown Convention Center. The form below must be submitted by April 5, 2023.
The FIRST Championship Event Guide is your downloadable, printable guide to our event at the George R. Brown Convention Center, including notable happenings, safety information and event logistics. Be sure to review the guide and your program's addendum.

FIRST® LEGO® League
FIRST® LEGO® League introduces STEM (science, technology, engineering, and math) to children (ages 4-16) through fun, exciting hands-on learning. In the 2022-2023 SUPERPOWERED℠ challenge, FIRST LEGO League explore where energy comes from and how it is distributed, stored, and used – and then put their superpowered creativity to work to innovate for a better energy future. 
FIRST LEGO League Challenge Addendum (Last Updated 3/16)
FIRST LEGO League Explore Event Guide Addendum

FIRST® Tech Challenge
FIRST® Tech Challenge encourages students (ages 12-18) to design, build, program, and engage in thrilling robotics competitions. In the 2022-2023 POWERPLAY℠ presented by Raytheon Technologies challenge, FIRST Tech Challenge teams compete in an energy-driven game and test the limits of performance, efficiency, and endurance to power innovations forward.
FIRST Tech Challenge Event Guide Addendum (Last Updated 3/1)

FIRST® Robotics Competition
FIRST® Robotics Competition teams use sophisticated technology to build and program industrial-sized robots to play an action-packed, alliance-based game on a themed field. In the 2023 CHARGED UP℠ presented by Haas challenge, FIRST Robotics Competition teams unlock the power of engineering to transform renewable energy and power a better future.
FIRST Robotics Competition Event Guide Addendum (Last Updated 3/15)